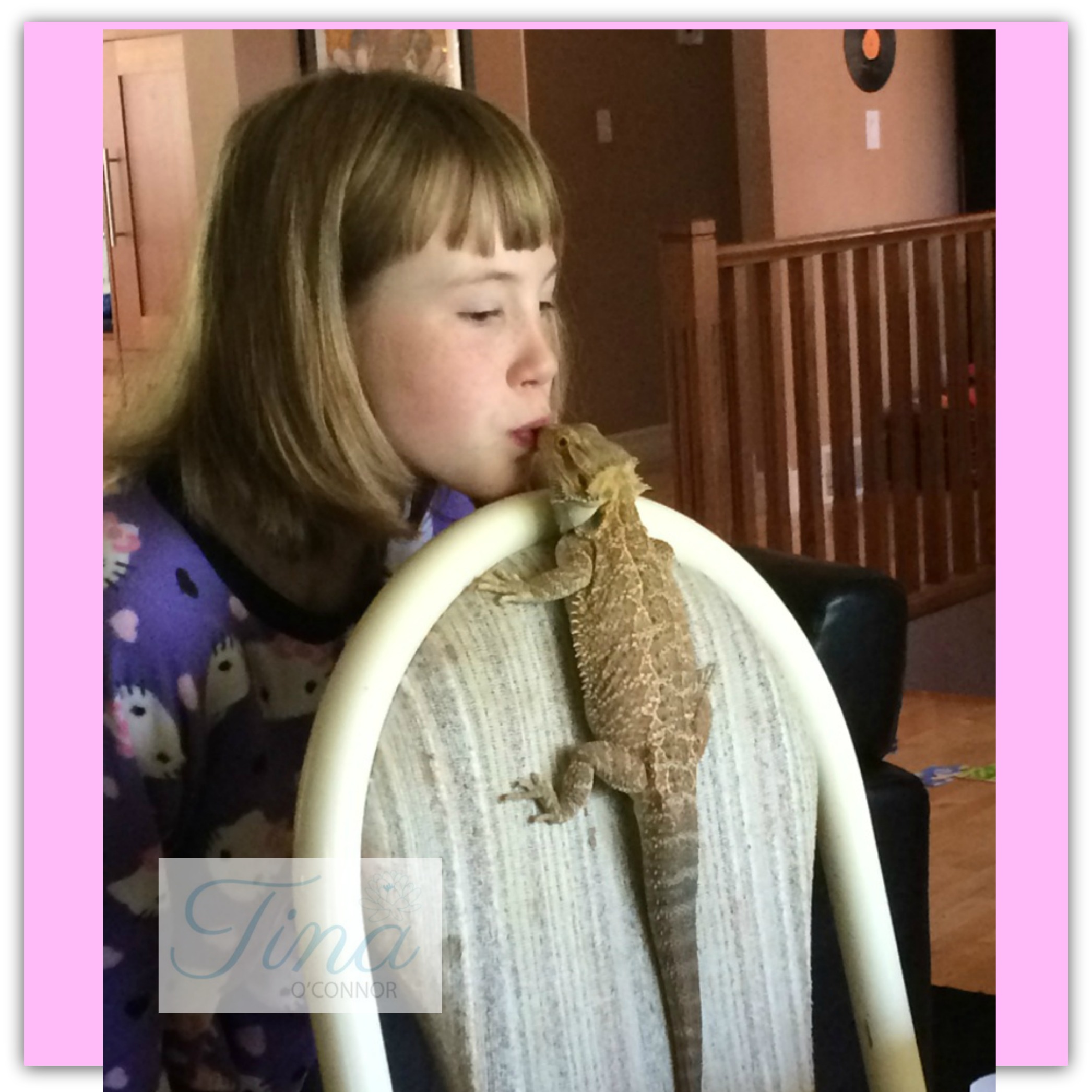 Some pets are hairy, and some pets are scaly!
But the love one gives to their pet, is a special bond forever!
Strange Bedfellows
by P. Manley
January, 2011
Ziggy is a beardie
Or a dragon some will say
But to the common folk
He's just a lizard today.
They bob their heads
And they shed their skin
When you see them wave
Most people will grin.
They won't go for a walk
Or even take a ride
But they do enjoy
A good game of hide.
They like bright light
And a warm place to sun
A little spray of water
Or a bath is such fun.
They love to eat crickets
And live for worms
But some prefer baby food
Or even green ferns.
It's funny sometimes
Love we have found
Doesn't even have to
Come with a sound.
But most of the time
It comes as a surprise.
Does your family have a pet??

The following two tabs change content below.
Tina O'Connor is an on-air personality and relationship expert who focuses on parenting, sex and lifestyle issues — with a feng shui twist. She is the author and creator of the popular "Be That" book series, whose titles include "Be That Girl," "Be That Mom" and "Be That Kinky Girl," providing women and couples everywhere with concrete strategies to achieve more balance, happiness, peace and success in their lives. Tina holds a BSc in psychology and is a certified feng shui practitioner and mom of three who appears regularly on Global, CTV and Rogers TV stations across Canada. She has also appeared as a guest on a wide variety of radio stations, from CBC to Playboy Radio. With her straight-talking approach and dynamic personality, Tina gives real-world advice with a flair for entertainment. She truly is "That Girl."
Latest posts by Tina O'Connor (see all)
Tags: Be That Mom, Bearded Dragons, Love, Pets, poem, reptile, Wordless Wednesday