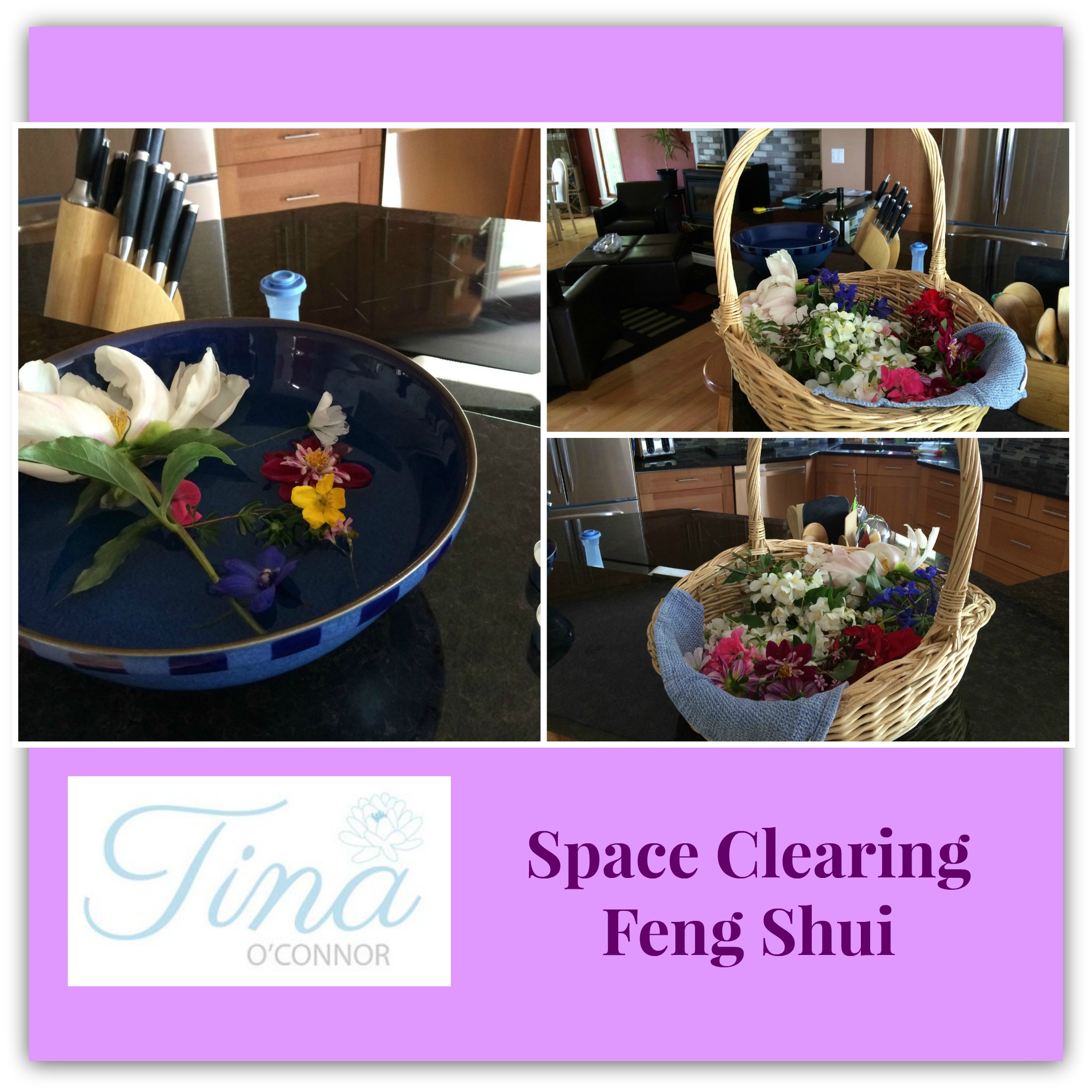 I am reading an amazing book called "Small Changes, Dynamic Results! Feng Shui for the Western World" by Erica Sofrina. I just love Erica's book. It is packed full of juicy Feng Shui tidbits that if put into practice, can change your life!
Order Erica's book HERE.
Erica inspired me to really get clean and to do a major space clearing on my home. While I am not "new" to Feng Shui, there are some principles that were "new to me" that I had not yet put into practice. My major breakthrough was learning about space clearing; the idea that you need to cleanse your space(s) of any stuck, negative, crazy, strange energy regularly, especially after large parties, when you move into a new space, when there have been huge life changes, or when  you need to create a huge life change! Think of it as spring cleaning for your energy. I was so inspired reading about cleansing my home, that I wanted to get started on it right away. I love to DO IT NOW!
 Erica's instructions for a major home cleanse were very clear:
Clean your home.
Shower and wash your hair.
Open all windows.
Remove animals and children from the premises. (Leave them out for 30 to 60 mins. after finishing space clearing.)
Remove jewellery and cover or store any food on counters.
Light incense or a candle in each room.
Put a bowl of water filled with 9 flowers or petals, in each room.
Add a few drops of holy water to each bowl (you can make this at home).
Use an appropriate space clearing tool (for slow, stuck, stagnant energy- use loud bells, drums or rattles. For angry, violent energy- use softer bells, rain sticks, or smudge sticks).
Ground yourself before starting by asking for protection and blessings, from your guardian angels. Set your intentions.
Start at the front door and walk counter-clockwise through the house using the space clearing tool of choice. Visualize the stuck energy being removed and flowing out the windows.
Wash your hands immediately!
Let the energy sit for an hour (or more!) after you are done. Leave windows open as long as possible.
Gather all of the bowls of flowers and pour them into a large bucket, being careful not to touch the water! (I wore gloves for this step!)
***Pour the water and flowers out somewhere off your property, not down the drain! This will not adversely affect someone else's energy, so dump this beautiful concoction on your neighbors land and get it off your land. Those flowers absorbed all the negative energy from you, so it's important to really "get rid" of that energy.
Bring pets and children back in the home.
Shower to remove the negative energy, and wash the clothes you wore.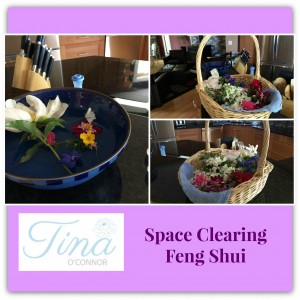 It seemed like a simple list when I first read it… then I realized exactly what this little cleanse project would entail! I began to see that this was going to be no small feat for me to perform.
Do not take cleansing your home lightly. You will be moving around a lot of energy– it requires careful planning to get it all right! To do my cleanse, I needed to have my three daughters out of the house for the whole day. I never thought I'd find a day over the summer, when suddenly Nana offered to babysit. Bonus: She wanted to take them overnight and all the next day too. I thanked the Universe and began planning my cleanse.
Excited to welcome in new energy, I awoke early. First, I took a glass jar filled with water and placed it in the sun. In only three hours it would be holy water! I moved onto Step 1: "clean your home". One thing I pride myself on is keeping a clean home; however, for this particular project I wanted to make sure my house was in tip-top shape before I started the cleanse. I was inspired to start with fresh and clean energy throughout our home.
We have a bearded dragon named Charlie, so I also had to consider what to do with him while I did the cleanse. It was a process, but I arranged to house him in a cage outside. Thankfully, it was summer in Canada, otherwise Charlie would have froze. He spent the day aimlessly chasing bugs he could never catch!
I cut flowers from my baskets and my garden to fill the bowls in every room. We have a pretty large house, so I needed a lot of flowers! I filled up bowls of water and distributed them into every room. Then, I filled them with nine flowers. I loved how each bowl had a different blend of flowers, each was unique and each seemed inspired by the room it was in. I also distributed a tea light candle in every room. It was a windy day, and I had already opened up every window in the house, so I had to find creative ways to keep the candles burning.
Our home has too much angry energy– it has since we moved in. I was excited to finally calm that energy. I chose a wind chime as my space cleansing tool and began to walk around my home. I was very aware of the way the energy felt in each room and I focused my energy on my ultimate intentions, adding good energy to each space with my thoughts. After walking the whole house, I blew out the candles, and headed to the garden to let the energy rest for an hour. I felt drained in one way and absolutely invigorated in another!
After an hour, I kept my gardening gloves on, and grabbed a weeding pail from my garden. I collected and dumped each bowl of flowers into the bucket. I also collected all the candles. I filled the dishwasher with the bowls, and turned it on right away. I then took the bucket of flowers and dumped it on my neighbours property. As I dumped it, I said "goodbye" to the negative, bad, stagnant, slow, stuck energy that had been in our home, and I said "hello" to a new breed of energy. Vibrant, Exciting, Energetic and Powerful energy!
Symbolically, I knew I had invigorated our home with a new kind of energy, and that I had removed some energy that was no longer welcome.
This was a whole day process and required a good deal of planning and preparation. You should be very prepared, healthy and excited when you perform your cleanse.
The intense peace and calmness that I felt immediately following the cleanse was incredible. (Some of that may be attributed to the fact that I had the house to myself for an entire day, I won't lie….).
I know that my kids and my husband will agree that the cleanse changed the energy vibration in our home. I feel blessed to have been inspired by one of my mentors, Erica Sofrina. Thank you for showing me how to reclaim, and re-energize, my spaces.
Want to learn more about Feng Shui?
Get educated by one of my mentors here: http://www.balancedlivinginc.com/

The following two tabs change content below.
Tina O'Connor is an on-air personality and relationship expert who focuses on parenting, sex and lifestyle issues — with a feng shui twist. She is the author and creator of the popular "Be That" book series, whose titles include "Be That Girl," "Be That Mom" and "Be That Kinky Girl," providing women and couples everywhere with concrete strategies to achieve more balance, happiness, peace and success in their lives. Tina holds a BSc in psychology and is a certified feng shui practitioner and mom of three who appears regularly on Global, CTV and Rogers TV stations across Canada. She has also appeared as a guest on a wide variety of radio stations, from CBC to Playboy Radio. With her straight-talking approach and dynamic personality, Tina gives real-world advice with a flair for entertainment. She truly is "That Girl."
Latest posts by Tina O'Connor (see all)
Tags: best books on self help, Cleanse, Erica Sofrina, Feng Shui, Lifestyle, Negative Energy, Positive Energy, Renewed, Space Clearing, spring, spring cleaning