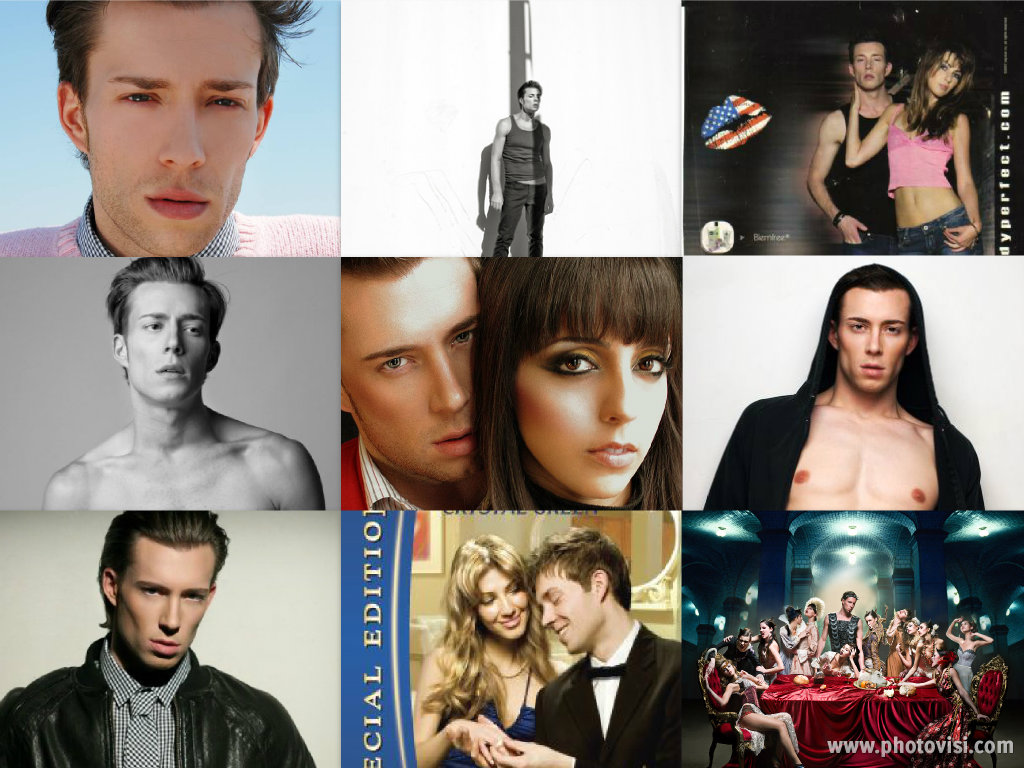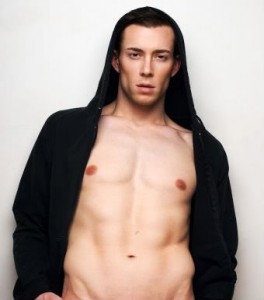 I had the pleasure of meeting Mark at an event recently in Toronto, and we had a cool conversation in a short amount of time that included strippers, Feng Shui and blogs. Finding particular interest in Mark's business venture with the male entertainers, I decided to look further at this intriguing guy.Turns out Mark has had his hands in a lot of different cookie jars so far in his life, and they have all lead him to where he is today; Model, Singer, Business Owner, Magazine Editor, and Social Media Influencer. I had a chance to get up close and personal with Mark, and we had the best chat! Here's what I found out about this inspiring, down-to-earth guy. I hope you laugh at the same part I did.

How old are you? 32, going on 33.
You've done very well for yourself in a short period of time. I guess, but I have high standards for myself. I've been lucky, and it's been hard.
How did you get into modeling? When I was 21, I was at Eaton Center and a lady approached me and said "you have an amazing look…have you thought about modeling?" My dad encouraged the opportunity, so I signed with them. When I was 23, I went to New York, and it was a major game changer. That opened a lot of doors for me.
How did you get into the music business? Growing up, I always wanted to do music but I didn't have the opportunity. My childhood focus was competitive figure skating, and I skated even through the summer. One year, I took the summer off from skating and recorded my first album with my brother. I was 14. I love music. It's fun, creative and challenging. The first record I recorded was called Fizzled in 2002 with a band called Elysium. In 2008, I recorded an album with my brother called I M Munroe I Am Here, which was a pretty successful album. But my brother bowed out due to family obligations. So, I re-branded myself as Mark Munroe, and have put out a few singles; Secrets & Lies, Dance for Me and Drive.
What advice / tips can you give to us regular people about how to give a good model pose, or get a good photograph of yourself? There is a joke in the industry about the look that made me famous, which is now termed the "Smell the fart face". It's a questioning look, my eyes are smoldering…almost as if I was thinking "did I smell a fart?" Also, you've got to find the light! Find your light. Look towards the light, and get the light on your face. It will really help you look good, and there won't be any shadows. You've got to have intense eye, and show emotion through them. It's a still image, so you've got to use your eyes to make a connection.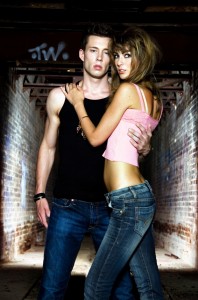 How has your life been hard, or interesting? From the time I was 22 until I was 28, I was a cocaine addict. I checked myself into rehab at 28, and my life fell apart. A 7 year relationship ended. I had legal issues because of contracts being broken. What I learned from that; I didn't appreciate the opportunity when I had it. I got caught up in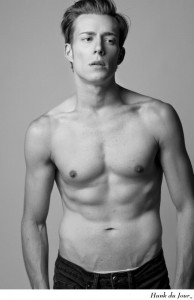 the lifestyle. I was a hot mess. I lived with my parents for 6 months and started over again. My outlet is writing, so I started using a journal and I wrote down one thing that made me happy each day. Then I turned my journal content into a blog, which I call Addicted. I wanted to celebrate the good, the laughter, the happiness, the food, and the vacations. I wanted to change what I was addicted to, and celebrate how great life is.
Tell me about HiM Promotions. I've partnered with a couple of great people to bring something similar to Magic Mike, but take it a step further, and we're starting in Toronto. HiM: Handsome International Men. Chris is the original HiM Man, and he's like our leader. He's the Matthew McConaughey of our troup and he handles rehearsals, and all the guys.We had our first official show April 11, 2015 at Uniun Nightclub, with INK Entertainment. It's a beautiful downtown venue, and we hosted the Ultimate Girls Night Out. It started at 8pm and went until 1am, with mingling and a beauty bar and gift bags filled with goodies. Tickets were $25, but our members got a discount making the tickets just $15. The HiM Men interact with the ladies before and after the show, and make all the women feel special.

How have you found the right HiM Men? We've just cast, cast, cast, and combed. We've gone through some agencies, and surprisingly, Tinder has been great for finding men who aren't afraid to put themselves out there!
What makes the HiM Men special? We have 14 core guys in our main crew, they are our family. Being a HiM Man is not just about being attractive. The HiM Man has a great body, is handsome, sexy, funny & charismatic. He has to have a good story, and be able to engage in great conversation. The HiM Man exemplifies what a great guy can be. Each guy has his own special qualities. One is polite, sweet and wonderful.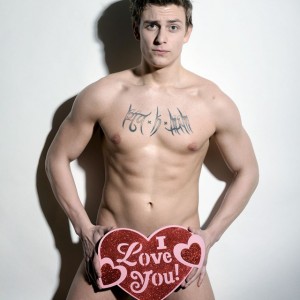 Another is just like Magic Mike, really funny and charismatic. They all have to have good dance moves.
Are any of the HiM Men gay? 95% of them are straight.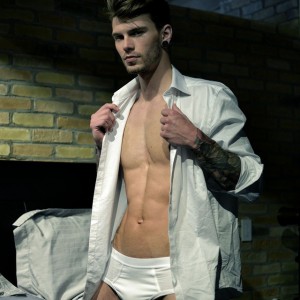 What do you think women want? To see men strip off their clothes. That's a huge part of it. In our shows, there is no junk shown other than butts; we show a lot of ass. Women want personality, also. We want our ladies to feel pampered and get personalized attention and interaction with these guys. It's not just a show, it's a classier, higher level experience where you get to meet the guys. There is lots of flirting and attention to go around.
HiM at Uniun Nightclub from Drasko Bogdanovic on Vimeo.
Well, what can I say?  In the last 3 years, exciting male entertainment has sure made a comeback, and I think us ladies will agree that it's something we enjoy and will gladly support in any way we can…right ladies? Support your local artists!  I think Mark Munroe and his partners have outdone themselves with HiM, and I am looking forward to seeing all the guys at their next event. Want to keep in touch with Mark Munroe? Here's how: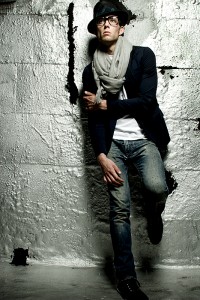 Twitter Mark Munroe Music
The future's looking bright!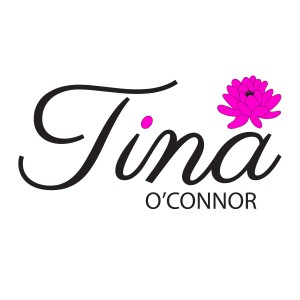 Check out my latest empowering book!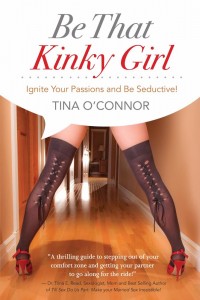 The following two tabs change content below.
Tina O'Connor is an on-air personality and relationship expert who focuses on parenting, sex and lifestyle issues — with a feng shui twist. She is the author and creator of the popular "Be That" book series, whose titles include "Be That Girl," "Be That Mom" and "Be That Kinky Girl," providing women and couples everywhere with concrete strategies to achieve more balance, happiness, peace and success in their lives. Tina holds a BSc in psychology and is a certified feng shui practitioner and mom of three who appears regularly on Global, CTV and Rogers TV stations across Canada. She has also appeared as a guest on a wide variety of radio stations, from CBC to Playboy Radio. With her straight-talking approach and dynamic personality, Tina gives real-world advice with a flair for entertainment. She truly is "That Girl."
Latest posts by Tina O'Connor (see all)
Tags: actor, GTA, him promotions, INK entertainment, Interview, magic mike, male entertainment, mark munroe, model, singer, social media, strippers, tina o'connor