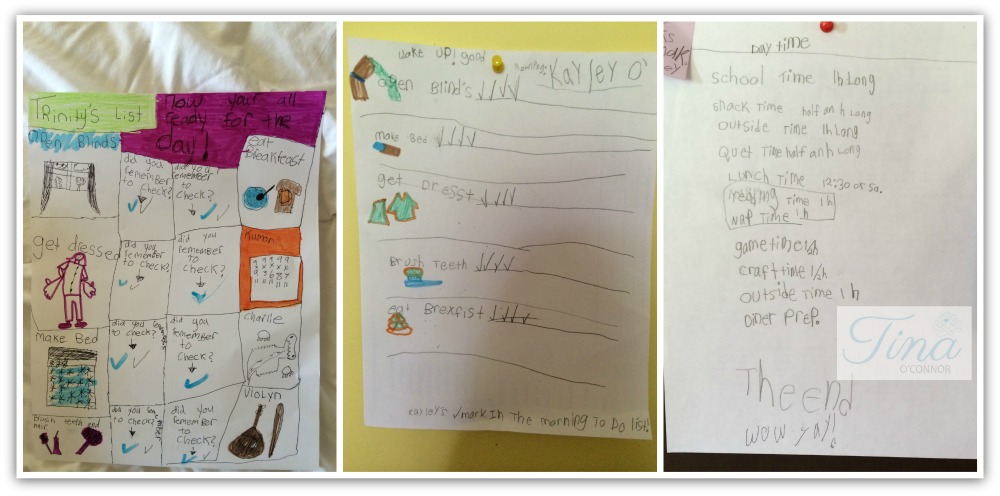 School's out for summer! The routine has changed and it's a free reign of terror around the house! While summer is a welcome break (yahoo- no more lunches to make!), most of us Moms have had ten whole months of NOT having our kids home during the day. The first few days can come as a shock to the system, so a good plan is needed. Be That Mom by keeping your family on a schedule (albeit a summer one), to calm the crazies that happen when no one knows what's up next!
Our summer schedule has two parts. The first part ensures that the kids keep up with their responsibilities. When they get up in the morning, they are expected to:
Open their blinds.
Make their bed.
Get dressed.
Brush their teeth.
Brush their hair.
Eat breakfast.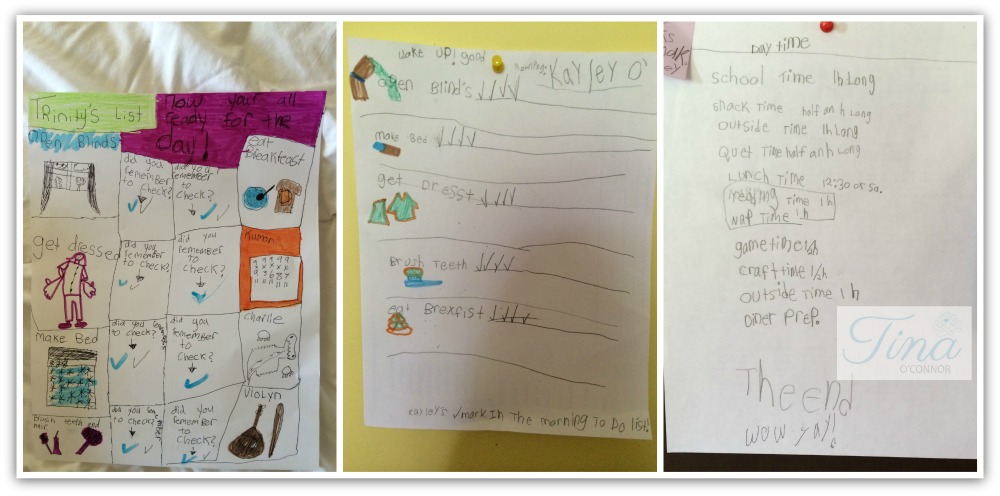 Each of my girls completes the above checklist.  Each wrote their own lists, giving them total ownership over their routine. They posted the list in their rooms for easy reminding and are essentially, preparing themselves to get ready on their own the next school year. Take the time while you have a little extra of it to train!
The second part of our summer schedule is a list of events that will be occurring throughout our day. My middle daughter, Kayley (age 8) and I created the daytime schedule, approximating how much time each activity might take. For example, school time begins at 9am each day. Yes, I really did say School. Our eldest daughter Trinity, does Kumon (math and reading) every day, so this ensures that she gets time to complete it. Earlier is always better! While Trinity works on her stuff, my other two girls do pages in their math workbooks, write book report pages, have story time and learn (lately we've been talking about Canada's provinces and territories).  I believe it is so important for the reading and writing to continue on during the summer months, to keep up newly acquired skills.
With the 'work' out of the way, the day progresses onto snack time, outside time, quiet time, lunch time, reading time, craft time and play time.  Friday is Field Trip Day… so we always pick a cool outing. We also go to the library once a week, ensuring a healthy selection of books to devour. (Make sure you also read when it's reading time…  you deserve it! When you show your kids your love of reading, they will learn to do the same.)
We don't always follow our summer schedule to a T, but everyone seems really calm knowing what to expect next. When you run your household like a ship, it's easy for anyone to step in and things still run smoothly.  Of course, as soon as the trailer is hooked up to the van, we turn our schedules off and let loose! At home it's nice to have expectations and routine, but we still need to polish off some quality 'aimless' summer memories.

The following two tabs change content below.
Tina O'Connor is an on-air personality and relationship expert who focuses on parenting, sex and lifestyle issues — with a feng shui twist. She is the author and creator of the popular "Be That" book series, whose titles include "Be That Girl," "Be That Mom" and "Be That Kinky Girl," providing women and couples everywhere with concrete strategies to achieve more balance, happiness, peace and success in their lives. Tina holds a BSc in psychology and is a certified feng shui practitioner and mom of three who appears regularly on Global, CTV and Rogers TV stations across Canada. She has also appeared as a guest on a wide variety of radio stations, from CBC to Playboy Radio. With her straight-talking approach and dynamic personality, Tina gives real-world advice with a flair for entertainment. She truly is "That Girl."
Latest posts by Tina O'Connor (see all)
Tags: Be That Mom, family fun, family memories, get organized, routine, schedule, summer, summer vacation