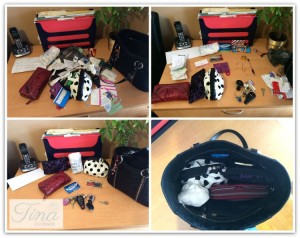 It is Monday morning. I just finished up two intensive days at the Calgary Woman's Show, and I am feeling ready to get back into 'office mode'.  The kids are all at school and I have 2 hours to squeeze in as much work as I can.
I excitedly walk into my office to get work under way.  Using my "everything has a place rule", I was about to tuck my purse into its designated spot, when I felt a twang of anxiety.
My purse had actually been driving me crazy lately. Receipts, garbage, snacks, name badges, business cards and other crap– had overtaken my purse in the last week!  I know that my purse is a symbol of my own wealth and prosperity, and that having a messy purse is not only inefficient, frustrating, and annoying… it is also bad Feng Shui!
After two days running seminars on Feng Shui, emphasizing the importance of a woman's purse to growing and maintaining wealth… it was me who had the purse of negative energy!
Now, the only thing I know for sure is that my messy purse proves that I am still a normal girl, with a busy life, who tosses whatever she can into her purse with the best laid plans to "deal with it later".
One other thing I also know for sure is that I am the kind of girl that makes sure later doesn't take too long to get here!
My excitement about completing the important office work in my 2 hour window ground to a halt. I had to do something about my purse first.  It would only take a quick minute… I can organize just about anyone's purse in 3 minutes, I have proven this in television segments repeatedly. So I gifted myself 5 minutes to protect my prosperity.
You can "Feng Shui your Purse" in 5 minutes too!
Here's how:
Dump the entire contents of your purse out. Take time to shake out the junk at the bottom of the purse and wipe out with a moist cloth, if necessary.
Sort everything that you dumped out of your purse using the following guide-

Keep it in your purse
Garbage / Recycling. Get rid of this stuff immediately.
Keep, but not in your purse. Move this stuff to its rightful place right away.

Make space for the stuff you want to keep in your purse.

Use cosmetic bags to sort the contents of your purse.
"Everything has a place!'…even in your purse

Use a Red Wallet. This will multiply your wealth!
Repeat this process regularly (daily, weekly, monthly…depending on you) for best results, and easy maintenance.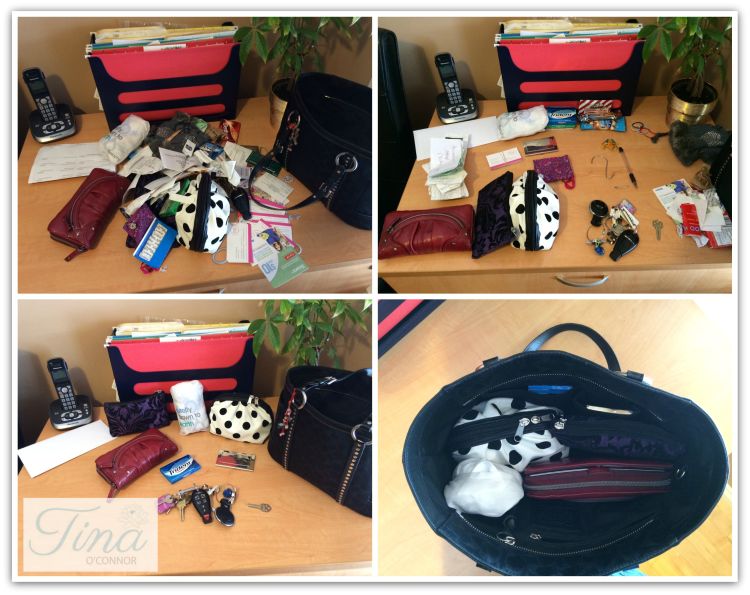 When your purse is organized, you will be able to not only find things easily, but you will also be able to put things away easily. You will even be able to direct your kids and your husband to things in your purse- if you allow them in there!
Once my purse was in order, I felt more relaxed and even more excited about the rest of my day. I knew that the 5 or 10 minutes that I had taken for my purse were well worth my effort. The calm, easy feeling I created with my purse was transferred into the rest of my day and I felt exhilarated!
Don't underestimate the power a little cleansing can have on your day. We are all busy and we all have millions of things to get to. I get that. I encourage you to make time everyday to create good energy in your own surroundings, before giving your energy and resources away to others. Your life will improve and you will prosper in ways you never thought possible.
So, add a little Feng Shui to your purse today. You'll thank me when you are checking out at the grocery store and you can easily find your coupons, bank card, and reward card. You will also thank me when you get to your car and you can find your keys without having to dump your purse out!
Happy Positive Energy Boosting!

The following two tabs change content below.
Tina O'Connor is an on-air personality and relationship expert who focuses on parenting, sex and lifestyle issues — with a feng shui twist. She is the author and creator of the popular "Be That" book series, whose titles include "Be That Girl," "Be That Mom" and "Be That Kinky Girl," providing women and couples everywhere with concrete strategies to achieve more balance, happiness, peace and success in their lives. Tina holds a BSc in psychology and is a certified feng shui practitioner and mom of three who appears regularly on Global, CTV and Rogers TV stations across Canada. She has also appeared as a guest on a wide variety of radio stations, from CBC to Playboy Radio. With her straight-talking approach and dynamic personality, Tina gives real-world advice with a flair for entertainment. She truly is "That Girl."
Latest posts by Tina O'Connor (see all)
Tags: Be Organized, Feng Shui, Feng Shui Purse, Feng Shui Tips