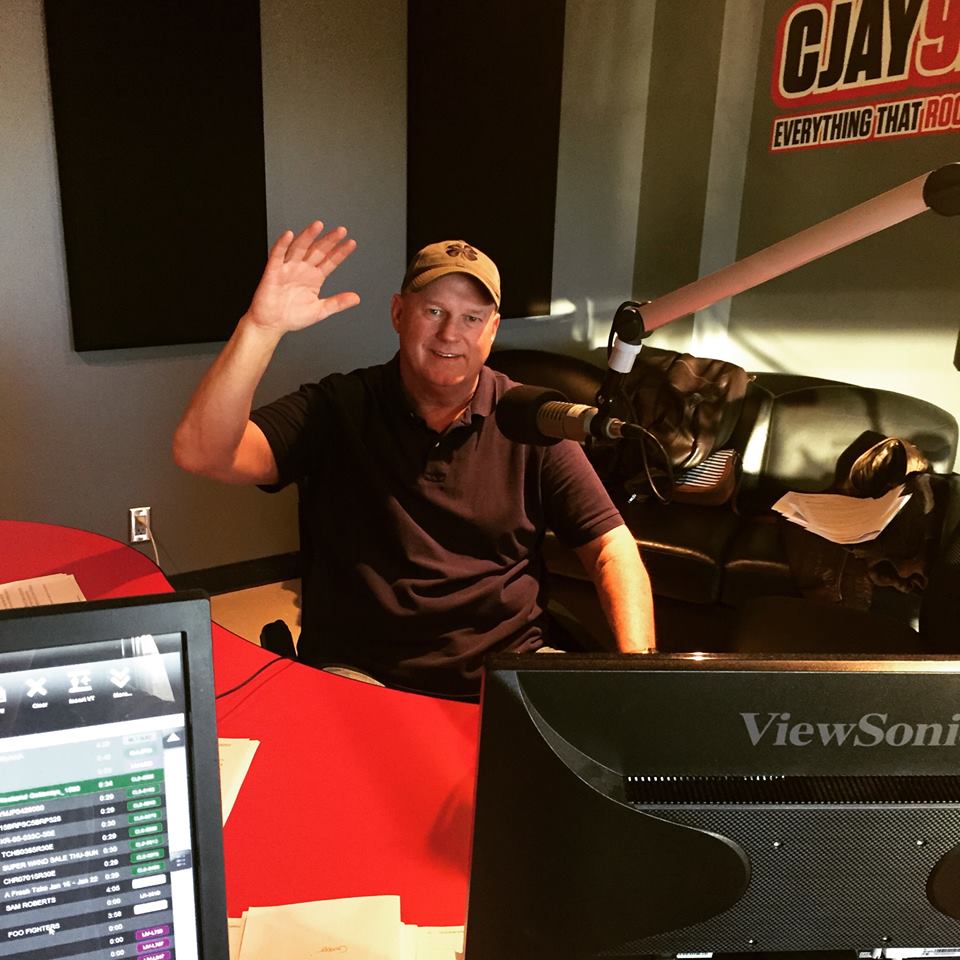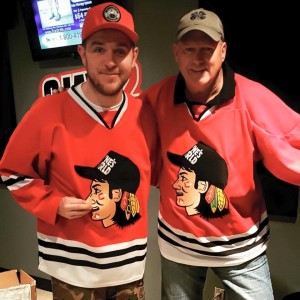 If you live in Calgary, then you've heard of Gerry Forbes, Calgary's unofficial mayor, and the Morning Man at CJAY92. Gerry's voice, and his character, are unforgettable, and his sarcastic, blunt attitude keeps the fans at CJAY92 ROCKING. Gerry and I met recently at a mutual friend's wedding, and I was surprised by his down-to-earth, good-hearted nature. On-air, Gerry is a force to be reckoned with, but in person, he just seemed like a big, cuddly teddy bear, with a crazy sense of humor. I knew enough about Gerry to know there was more to him than meets the eye, or rather, meets the ear. My curiosity got the best of me, so I asked Gerry to meet me for a casual interview. We squeezed in some time during the Morning Show at CJAY92 and I got to be in studio with Gerry and JD Lewis. What an amazing amount of energy in that little room! The new Jurassic Park movie had just released, and the boys had fans calling in with their best T-Rex impressions. I was laughing my ass off. In between on-air segments, Gerry and I talked about his life, his career, his dog, and his charity work. Here's what I learned about Calgary's most famed Radio Icon.
What got you started in radio? My dad ran CHED Up Rockstation in Edmonton. From the time I was 7 years old,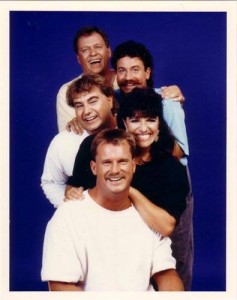 I was going to the radio station. By the time I was 13, I knew I wanted to do it! I was living in Ontario with my mom, and my dad was in Edmonton. I started putting tapes together and sending them to my dad. He would critique them, and tell me what to do to make it better. Before I finished grade 12, I was offered a position as the all night guy at CHNL in Kamloops,  with just a little nepotism from my dad.  I lied to get the job; said I knew the equipment already, so I had to learn real quick, because I'd never done the job before!
Funny Story Interlude: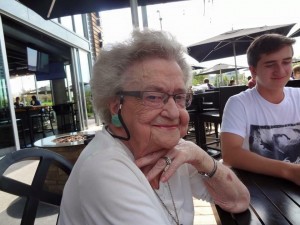 While I was in Kamloops, I would write home often. One time, I mixed up the letters that I sent to my mom and my girlfriend. The one to my girlfriend was all about love and sex and stuff, and I sent it to my mom! My mom sprayed it with perfume and roses and sent it back to me!
That 8 months in Kamloops was like being in a jail. There was nothing going on. So I headed back to Toronto, and got a job in Hamilton at CHAM. I really wanted to work at CHUM or CFTR in Toronto, but I settled for a good job at IBM for the money…but I hated it!
So, I sent a tape to CFTR and they hired me in Toronto. I stayed there for 2 years, and then made my way over to CHUM in Toronto. This was all before the time of the internet. I was the only Canadian guy at CHUM, everyone on air was from the U.S. I started out doing the midnight show, from 9pm to midnight, and eventually I got the morning show.

My brother wa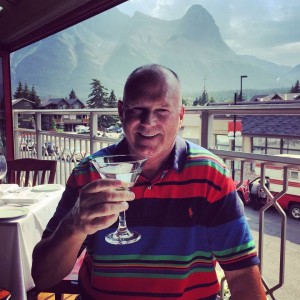 s the boss at CHUM, and he left to go and work for CKFM (now Virgin), and they offered me a position there. I stayed there for 2 years. My brother quit, so they fired me!
I had offers from companies in Calgary and Vancouver, but Vancouver just was not for me. So, I came to Calgary and replaced Kevin Nielson on the Morning Show at Lite 96. I was at Lite 96 for about 2 years, and I got an offer from QR77. They had great ratings, but I wanted to take a break, so I went to Hawaii for about a month.
When I came back, I took a position at the BEAR in Edmonton, and hated Edmonton! I had to learn the new rock format, but in 8 months I learned it. Then I took off for Calgary.
They already had a guy on the morning show at CJAY, so I proposed a contest. The station had both of us on air to see who would win based on ratings. My ratings were great, so I got the job at CJAY!
While I've been at CJAY, I've turned down 4 job offers…I am the #1 retained guy.When Q107 was sold from Standard to Astro (about 5 years ago) they offered me a multi-million dollar deal…and I didn't go.
Funny Story Interlude:
When Q107 w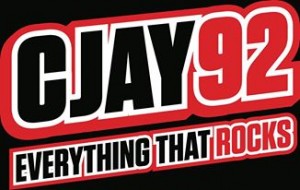 as trying to get me, I got my boss from CJAY to answer the phone when the president of Q107 was calling. Right then and there, I sealed a 1.6 million dollar deal with CJAY!
What else do you have your hands into?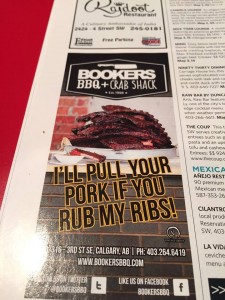 I own part of Bookers BBQ + Crabshack, and I handle social media for them. I have written columns for The SUN on Thursdays and Saturdays for the last 20 years.
I also do voice-overs for beer commercials (Labatt's), West Jet, and documentaries and I am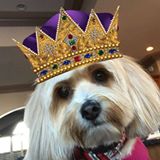 the spokesperson for HAWCS Helicopters. I even pimp my dog out ("Bents", voted Best Dog in Canmore 2014!) and have received over $5700 in free dog food! 
What do you do in your spare time?
I am a ho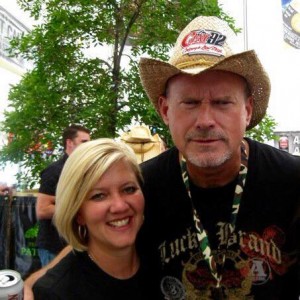 mebody. I've been married for 17 years. I love exotic sports cars. I have 2 Bentley's, a Porsche and a Jaguar.  I spend time cleaning and polishing my cars! I have a dog, and no kids. We have a place in Canmore that we go every weekend, and have for the last 16 years. We also vacation in Arizona for 6 weeks a year. 
Tell me more about what you do to help your Calgary Community…Gerry's Secret Wish Program has helped so many people!
My Dad started Santa's Anonymous in Edmonton at 630 CHED. I helped him out with that as a little kid. He taught me to help others! I sat down with Ed Whalen at a variety club when he retired, and discussed options. Secret Wish was started as a way to offer help to Calgarian's at Christmas time, but I realized my community needed help all through the year, not just at Christmas!
Gerry Forbe's Secret Wish Program helps everyone in Calgary with every sad thing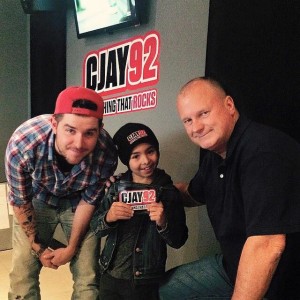 you can think of…eye operations, heart transplants, sending dying children to Disneyland, paying for funerals.  We are the first to be contacted by Calgary Police and Firefighters to provide assistance. We help others who have nowhere else to go.
Recently, Gerry and JD assisted in raising over $20,000 in funds for the funeral of  2-year old Hailey Dunbar-Blanchette and her father Terry Blanchette in Blairmore, Alberta in just 24 hours!
What is it about Radio that you love?
It's not like a job, it's fun! I think fast on my feet, and I am just made for radio! I'm actually shy and I don't like things like emceeing.
Give me an example of "a day in the work life of Gerry Forbes".
I'm up at 3:45 am and into the office by 4:30. Show starts at 5 am, and goes until 10 am. My meetings start at 10:15 am. I'm in bed by 8:30 pm, and I have weekends off!
In my opinion, Gerry Forbes is truly one of Calgary's Finest Gentleman, and he's worked hard (and smart) to get where he is today. He has been awarded the Queen's Diamond Jubilee Medal, Calgary's "Man of the Year", the "Outstanding Albertan Award", and has been FastForward's Media Personality of the Year for 7 years running.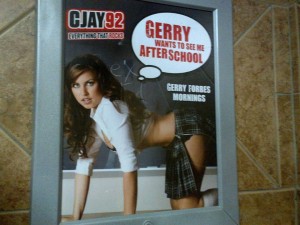 Gerry makes me feel proud to be a Calgarian. We stick together. And it's people like Gerry Forbes that make sure we can stick together when the going gets tough. He entertains us, he embraces us when we need help, he makes us laugh uncontrollably, he makes us feel, and he makes us think about the world in all kinds of weird, messed up, interesting, thought-provoking ways. He's Gerry Forbes, and he ROCKS. That's all, Folks!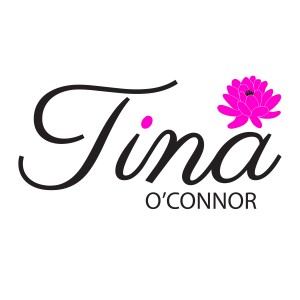 Follow Gerry's Dog, "Bents", on Facebook
The following two tabs change content below.
Tina O'Connor is an on-air personality and relationship expert who focuses on parenting, sex and lifestyle issues — with a feng shui twist. She is the author and creator of the popular "Be That" book series, whose titles include "Be That Girl," "Be That Mom" and "Be That Kinky Girl," providing women and couples everywhere with concrete strategies to achieve more balance, happiness, peace and success in their lives. Tina holds a BSc in psychology and is a certified feng shui practitioner and mom of three who appears regularly on Global, CTV and Rogers TV stations across Canada. She has also appeared as a guest on a wide variety of radio stations, from CBC to Playboy Radio. With her straight-talking approach and dynamic personality, Tina gives real-world advice with a flair for entertainment. She truly is "That Girl."
Latest posts by Tina O'Connor (see all)
Tags: Calgary, CJAY, CJAY92, Confidence, gerry forbes, Lifestyle, Media, radio personality, secret wish, social media, tina o'connor